What are nutritional supplements?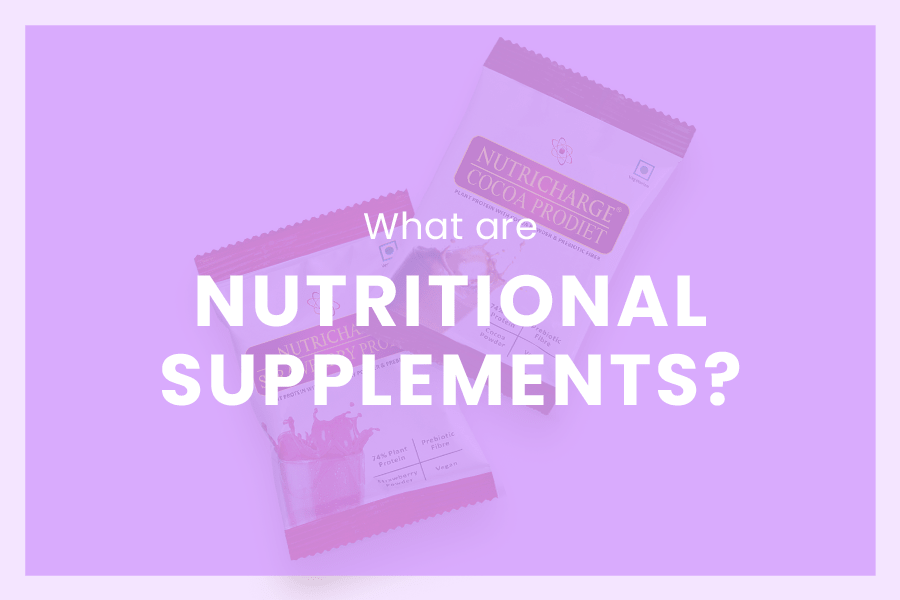 Nutritional supplements are not medicines, and neither should they be considered a substitute for food. Nutritional supplements help improve the diet & nutrition status. It delivers nutrients that may not be consumed in sufficient quantities & ensures that you are getting the daily recommended intake of essential vitamins, minerals and other important nutrients necessary for optimal health.
Easily absorbable nutrients and hence effective formulations
Optimum absorption as the nutrients are present in their most absorbable form, e.g., ferrous bisglycinate in Nutricharge Woman, Soy Protein Isolate – 91%-95% absorption
100% Vegetarian supplements
We believe in making every Indian healthy irrespective of the food choices they follow. Vegetarian supplements can be consumed by not only those who eat vegetarian food but also by those who eat non-vegetarian food.
World Class ingredients and packaging
We source the finest quality ingredients from well acclaimed suppliers around the world and we follow global standards when it comes to packaging.
We understand that if something has to be taken every day, it has to not only be palatable but tasty. To make our supplements tasty, we use real powders of strawberry, cocoa, kesar-pista and mango as opposed to synthetic flavours. In this manner, we ensure that maximum nutrition reaches your body. This fact needs a special mention here that we refrain from adding sugar to our supplements to make them tasty
We manufacture all our products in FSSAI approved plants, equipped with advance Avant Garde technology. First in India to make soft veg capsules
Our key supplements have been Clinically proven for efficacy and safety
A comprehensive formulation
We give all vital nutrients in one supplement in a comprehensive formulation. It is easier and more convenient to take 1 supplement that encapsulates all the vital nutrients as compared to consuming 1 tablet per nutrient. 1 tablet per nutrient is not only cumbersome and expensive but you may end up skipping/ forgetting a few since there is a list of tablets you will have to take in a day, which defeats the whole purpose.