Ingredients:

Nutricharge Cocoa Prodiet
1 sachet

Almonds (soaked overnight)
3-4 Pcs.


Dates
2 - 3 Pcs As per taste

Sesame seeds (soaked 5-6hrs)
½ tbsp
Method: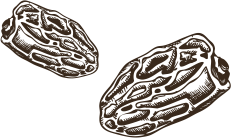 1

Blend all the ingredients well.

2

Pour in a glass and enjoy.

Energy: 194 kcal

Omega 3: 6 mg

Protein: 18.4 gm

Folic acid: 10 mcg

Total fiber: 5 gm

Phosphorous: 73 mg

Calcium: 77 mg

Iron: 3 mg

Folic Acid: 55 mcg
Benefits of Pro Cal Goodness Smoothie:
Nutricharge high Pro Cal Smoothie is a gluten free, vegan smoothie lotaded with the goodness of best quality isolated soya protein, calcium and natural prebiotic fibre.

1 glass of smoothie provides you with 18.42gm protein (which helps to meet almost 1/3 rd of your daily protein requirements - 60 gm/day), 77mg calcium and 5gm dietary fibre.

Nourishes your muscles and bones making them stronger.

Combination of protein and calcium is excellent for strengthening the bones and joints, maintaining bone mass, preventing bone loss and fracture.

Provides nourishment for youthful skin and healthy hair.

Excellent for immunity.

Maintain muscle to fat ratio.

Increases metabolism.

Dietary fibre (inulin) improves digestion and gut health.